Affiliate Help
Whether you need assistance with the software, campaign ideas, product knowledge, article or newsletter content, images and creatives – We are always here to help!
Where to Start
The only way our website can track what visitors you send is via your unique Affiliate URL.  You must include your URL in all text, image and social media links you use to direct traffic to our website.  You will find your link in the Affiliate URLs tab of your Affiliate Dashboard.
Creating Affiliate URL links to specific pages
This can be done via the Affiliate URLs tab of your Affiliate Dashboard.
In the Page URL field enter the URL of the page from the Board Direction website that you would like your customers to be directed
Add your own campaign name if you wish
Press the Generate URL Button
Copy and paste the unique URL created into your campaign links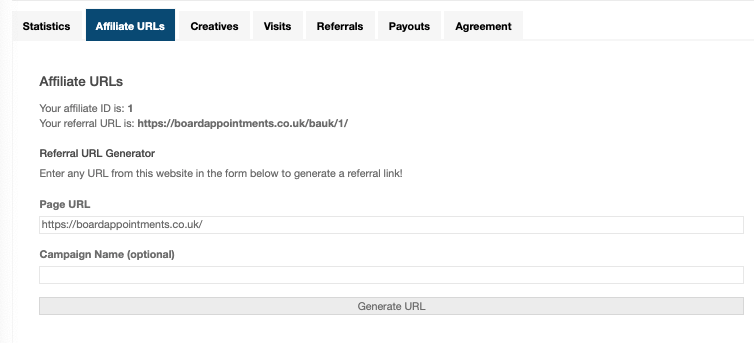 Creatives and Banner Ads
You can find copies of our logos and sets of ad artworks for you to use. We will be adding to the suite with different campaigns and product promotions.
Passwords and Personal Details
To reset your account password or update any of your personal details, please go to the My Account link at the top right corner of the website.
If you need any further assistance, simply complete the form below.
David Schwarz
CEO, Board Appointments